In the context of renewable investment, due diligence is a procedure that encompasses an in-depth study of a project from the pre-construction phase through construction and operation. Assessing the predicted energy of a project design or running asset, project risks, and how these investments perform in the short and long term are all part of the renewable energy due diligence process.
Risks associated with wind and solar renewable projects must be considered, understood, and managed by all stakeholders, including developers and investors. Both technical and economic considerations must be considered before investing in a renewable energy asset. This ensures that the appropriate decisions are taken, and resources are mobilized.
Specifics of Renewable Energy Due Diligence
Due diligence can be performed in a variety of methods and in many domains. For example, one method of performing due diligence on renewable energy projects is to calculate the levelized cost of energy (LCOE). The LCOE is defined as "the average revenue per unit of electricity generated required to recover the costs of constructing and operating a generating plant over an assumed financial life and duty cycle." This tells you how much one-megawatt hour of power generated by the project costs. By comparing that figure to a comparable electricity generation due diligence project, you can determine whether this project is worth investing in.
Challenges
Renewable energy investment funding has increased in recent years, but not without hurdles. When it comes to any investment, it is critical to analyze risks, and this process becomes more challenging with new and developing technologies such as battery storage and hydrogen.
One of the most significant problems would be variable technology costs, as well as prospective governmental and regulatory changes. These are unforeseeable external factors that could result in a high transaction cost.
Comprehensive Energy Due Diligence Process Elements
In the context of renewable investment, due diligence is a procedure that encompasses an in-depth study of a project from the pre-construction phase through construction and operation.
Here are the essential energy due diligence process elements:
1. Identifying environmental risks and legal liabilities
Environmental due diligence may include examinations of:
Location near sensitive ecosystems
Structure and materials from the past
Hazardous waste disposal safely
Procedures for operations
Compliance issues
Contamination of the soil and groundwater
The procedure can be initiated by land developers, lenders, attorneys, or individual owners who want to buy, refinance, or occupy a property.
2. Evaluating energy efficiency opportunities
This begins with increasing the operational energy consumption analysis of the company's facilities, processes, and practices through an in-depth review of energy, water, and material use, as well as waste. People expect to see renewable energy integration opportunities in the industrial processes over which the corporation has control, as well as alternatives to enhance material efficiency, turn some waste into products, and minimize waste costs. However, there may be more strategic options with higher financial repercussions.
3. Assessing the financial viability of energy projects
Financial analysis and modeling with due diligence really matter. The research and analysis of the company's accounts and financial position is referred to as financial due diligence. The group's financial position and funding requirements can be determined through sensitivity analysis.
The findings of the return on investment (ROI) due diligence can serve as the foundation for a pending firm appraisal.
4. Enhancing corporate social responsibility
Unethical business practices and environmentally destructive corporate operations can result in human rights breaches, such as worker exploitation, and environmental hazards, such as biodiversity loss. However, it is critical to recognize that environmentally destructive business practices may also infringe on people's rights, as with indigenous peoples' rights or access to safe drinking water.
The purpose of the sustainability goals alignment is to avoid fragmentation of due diligence responsibilities in the EU internal market and instead create positive environmental impact assessment. To that purpose, all persons harmed by human rights violations and the environmental consequences of corporate actions should have better access to remedy.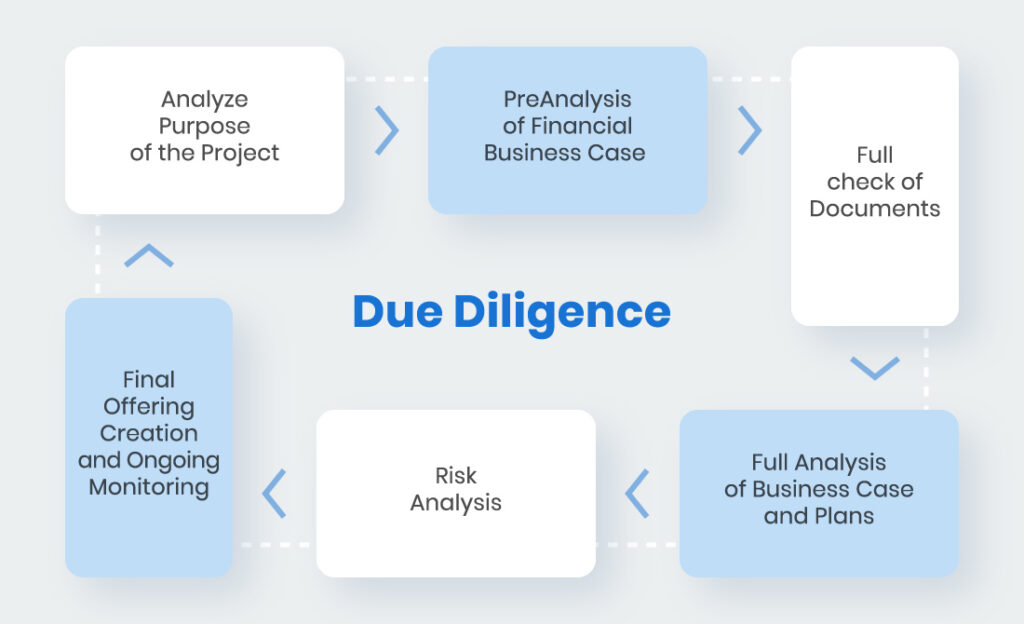 The Role of Technology in Streamlining Energy Due Diligence
In project development, time is of the essence. Delays can lead to higher costs and missed opportunities. Developers can identify possible barriers and implement risk-mitigation methods by conducting a complete critical issues analysis early in the project. This proactive strategy speeds up project development and saves developers time and money.
Unmanned aerial vehicles, or drones, have a wide range of applications ranging from e-commerce deliveries to construction monitoring, affecting industries ranging from agriculture to advertising.
Drones for site inspections and data collection – Drone inspections are used in almost every industry that requires visual inspection as part of its maintenance activities. Drone inspections keep inspectors out of dangerous circumstances by collecting visual data on the status of an asset.
Sensors and IoT devices for real-time monitoring – The fast development and application of smart and IoT (Internet of Things)-based technologies has opened up new avenues for technical breakthroughs in numerous parts of life. The primary purpose of IoT technologies is to simplify procedures in various domains, to increase system efficiency (technology or specialized activities), and, lastly, to improve life quality.
Conclusion
Due diligence is a critical component of any successful deal. It is a difficult procedure that must be prepared far in advance, and better with due diligence tools, to allow for a complete evaluation of relevant documentation. A rigorous due diligence process identifies significant risks and potential areas for improvement, allowing the investor to make an informed decision. Participation in several due diligence processes in several countries and across multiple asset types reveals that certain insights repeat across projects. 
The environmental laws set the stage for establishing the key concerns to be addressed during the environmental assessment process. Environmental rules, standards, and recommendations provide useful information on emission limits, permit requirements, pollution abatement and control techniques and equipment, the best management and operating practices, etc.